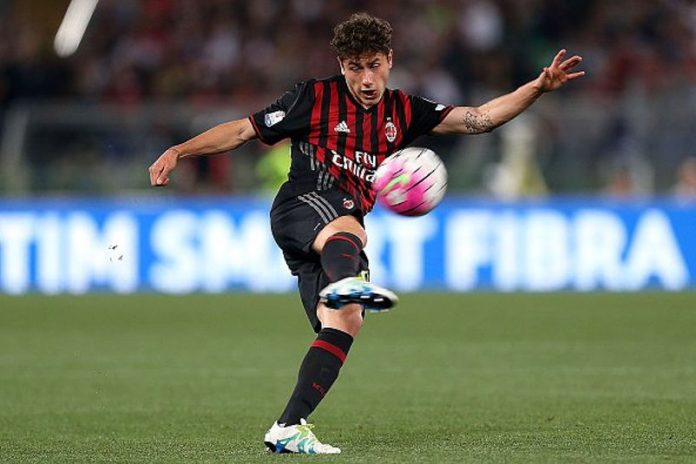 Scout Report: Gian Filippo Felicioli
Country: Italy
Date of Birth: Sept 30, 1997 (18 Yrs)
Current Club: AC Milan U19
Position: Left Back
Current Transfer Value: €200k (Credit – TransferMarket)
For some odd reason, Italy have not been able to produce tough defenders in recent times. The likes of Georgio Chiellini and Leonardo Bonucci are part of the old guard while Matteo Darmian is more of a touch player than being a hard tackler.
Perhaps that is the reason why Gian Filippo Felicioli's rise to Italian football has got many experts very excited. Currently playing with AC Milan's U-19 side, Felicioli is being tipped to become one for Milan's greatest find in recent years.
Amid the buzz in Italian media, we take a closer look at Gian Filippo Felicioli's playing style, weaknesses and future prospects as a professional footballer.
Gian Filippo Felicioli – A brief history
Born at San Severino Marche (Italy), Gian Filippo Felicioli started his professional career as a winger, but has been successfully transformed in to a left sided full-back.
At the tender age of 18, Felicioli has already made his AC Milan debut when he replaced Giacomo Bonaventura vs. Napoli on May 3 2015.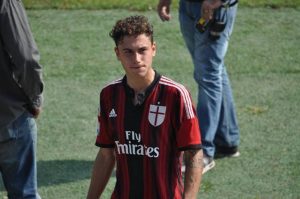 Although the night was marred with a 3-0 win, it was the beginning of Felicioli's journey at AC Milan. Those who have worked with him label Felicioli as a hard working and tenacious players.
He has already represented Italy at U15, U16, U17, and U18 levels and is a prominent figure for AC Milan's U19 side.
Gian Filippo Felicioli – Style of play and strengths
The long-standing tradition for Italian players is to be mentally sound and possess exceptional technical abilities on the ball. Gian Filippo Felicioli is no different as he is equally adapt in playing as a wing-back and also as a full-back.
Felicioli loves to mix his intelligent tackling with flamboyant wing play. He loves to get forward and feed balls to his attackers. His overlapping runs are a delight for natural wingers, who can count on their full-back to be alive to situation and make the most of an opportunity.
Another emphatic aspect of Felicioli's game is his ability to adapt to different formations. He is as comfortable playing in a 4-2-3-1 system as to playing in a 3-5-2 style, where he acts as the wing-back.
His adaptability and playing style is somewhat likened to Matteo Darmian, who is renowned for those abilities as well.
Gian Filippo Felicioli – Weaknesses to be worked upon
In his very short career, Felicioli has impressed everyone with a composed head on his shoulders. One aspect he can look to work on is his heading ability. He often gets bullied while attacking a ball during set pieces.
He is close to 5 ft 10 in and getting bullied for headers is something he would like to improve in coming seasons. He has not played against the greats of European football, so pointing any fingers at his defensive side of things will not be a right call.
Gian Filippo Felicioli – What does the future hold?
Having already made his debut for AC Milan, Felicioli has crossed the most important hurdle of his career. Next task for him is to nail down a regular starting role in Siniša Mihajlović's playing XI.
He has made all the right impressions so far and a call up to the senior AC Milan side does not look too far. However, Rossoneries might test Felicioli's abilities by sending him on loan to a Serie A club next season.
He has made his progress and is ready to play for a senior side. Whether that opportunity comes at San Siro or from somewhere else, is the only question which needs answering for Gian Filippo Felicioli's immediate future.
Image Credit: Getty, Video Credit: Youtube