Scout Report: Breel Embolo
Country: Switzerland, Cameroon
Date of Birth: Feb 14, 1997 (19 Yrs)
Current Club: FC Basel
Position: Striker
Current Market Value: €16million (credit – Transfermarkt )
Breel Embolo is one of the most exciting and highly rated young players in world football at the moment. Just at the age of 19, he is being chased by Bayern Munich, Manchester United, Tottenham Hotspur, Juventus and Wolfsburg.
Embolo has already played over 75 club games and has won 9 national caps for Switzerland. Amid all the anticipation surrounding this young striker, we take a closer look at Breel Embolo's playing style, weaknesses and future prospects as a professional footballer.
Breel Embolo – A brief history
Embolo was born in Yaounde, Cameroon but moved to Basel with his mother at the age of 6. Soon after Embolo played youth football for Nordstern and Old Boys which saw him make a move to FC Basel at the age of 13. After helping Basel win back-to-back Under-16 titles, he quickly saw himself involved with Basel's senior side.
Embolo went on to make his Europa League and Swiss Super League debut within a space of four days. He managed to score on his league debut within 5 minutes after coming on. That was the moment when everyone realized how talented Embolo was and what he can achieve if he continues on the right track.
With his club career sorted, Embolo had to make a choice about his International future. He was eligible to play for both Switzerland and Cameroon. While the African team did their best to convince the young striker to dawn Cameroon's jersey, Embolo ended up going as per his mom's words and decided to play for Switzerland.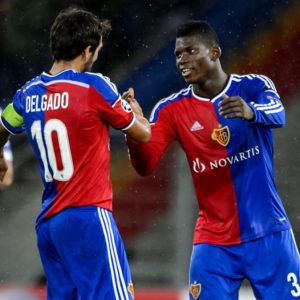 Breel Embolo – Style of play and strengths
Generall you do not associate the words like goals, power, muscular physique and overall presence with a 19-year old striker, but Breel Embolo has all of that in abundance. His debut season with Basel saw him score 10 times in 26 appearances and rapidly build a deadly reputation.
He is a direct dribbler, intelligent in his movements and uses his massive frame to fend of defenders. While his goal return has been solid so far, he is never shy to get involved in the approach play and dictate the tempo from midfield or from the wide areas.
Standing at 6 feet tall, his heading skill is another asset for Basel. Add to that, his ability to wait for the right moment to take a shot makes him stand out from rest of the young strikers in Europe.
Breel Embolo – Weaknesses to be worked upon
Despite scoring a decent number of goals early on in his club career, he does not come as someone who is a natural finisher. He is not a penalty box striker who waits and thrives on chances created by his teammates, rather he likes to get involved and create chances.
Another facet to Embolo's game that needs polishing is his consistency which could be down to him not being a natural finisher. He also needs to react quicker in possession and not take that extra second in either releasing a player or going on to have a shot himself.
Breel Embolo – What does the future hold?
He may be just 19 but has attracted a huge interest from the European super weights. For now, he looks set to stay with Basel after the Swiss Champions rejected a €25million bid from Wolfsburg at the start of current season.
Embolo is currently an understudy to club legend Marco Streller and will have to wait until next season to nail down a regular starting position.
Coaches who have worked with the 19-year old striker claim that Embolo is unfazed with all the rumours surrounding his future and is only concerned with playing good football. With such a positive attitude mixed with his obvious skills on the ball, Embolo is guaranteed to have a bright future ahead of him.
He is still inconsistent which means that there is a room for improvement and that is why he should remain at Basel next season and only consider moving to the likes of Bayern, Man United, Juventus or any other club when he has become an even prolific striker.
2017/18 could be Breel Embolo's season where he is expected to make a big money move to a Champions League regular club. He would easily cost any club in the region of €30-40million but one thing is for sure, he will be worth every single penny spent on him.
Image Credit: Getty, Video Credit: Youtube