As often, Arsenal's Wednesday presser ahead of the Europa League return-leg clash with BATE hinged on one player – Mesut Ozil. In this latest episode, Unai Emery charged the ex-Germany international to raise up to the challenge and fight for his place. He should do so.
All through his career, Ozil was synonyms for assists. Some admirers even quipped that the synonym for assist is Ozil. However, since Emery's arrival at the Emirates last summer, the German has become something of a ghost, rarely spotted around the first team. He's hardly on the matchday squad save creating goals.
Ozil has started just 13 times in the Premier League, assisting just once. He's managed merely a little above 100 minutes since the year's turn. His last appearance was the 2-1 victory over Cardiff almost a month ago. While there have been reports of a potential exit, Emery believes the 30-year-old has the key to unlocking the first team.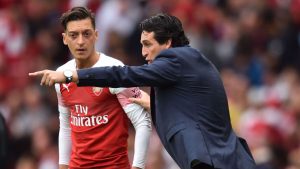 "First, mostly, the key is in his hand. And he is working very well this week. I ask him in our conversations to be consistent. To be available for us training," Emery told reporters. "When you can train with regularity, consistency, you can help us after in the games.
Now I think this week is good for all the players because we are in an important moment for the season.  He needs to be consistent, be available for training, for the matches."
Emery's assertion isn't afar off Arsene Wenger's. The Frenchman, who signed Ozil from Real Madrid, this week questioned whether the club-record contract had left the player in the "comfort zone". Ozil is known for his careless, lackadaisical attitude. It appears to have reached new heights this season.
The 30-year-old body language is that of uninterest. He seems unconcerned by his lack of playing time. Without the motivation and drive of a teenager, Ozil is relaxed and comfortable with the state of things. He must change his attitude in order to reclaim Emery's trusts.