Manchester United lost their last two games against Arsenal and Wolves, leaving them out of the FA Cup competition, falling off the Premier League top 4 race. Now, it's looking like United might need to go all
out in the upcoming summer window so as to ensure they secure a solid squad for the upcoming Premier League campaign. You can go all out to by combining the sports betting with some casino gambling. Check out bonusrequired.com and make your way to being a Champion.
With that said, here is the name link with a move to the Old Trafford in recent days….
United have reportedly been linked with former Liverpool FC and now FC Barcelona attacker Philippe Coutinho, with a transfer fee of about £100m alleged.
British publication The Mirror and other media outlets report that the Brazil international midfielder allegedly issued a come and get me plea to Manchester United, because he has been missing the Premier League life.
A return to the most supported league – Premier League may appeal the creative midfielder because he has struggled at the Catalan club, and forward Philippe Coutinho, 26, has played 39 games so far this season, netting eight goals.
He appears sure to pick up a league crown this season, something that the former Liverpool player completely failed to achieve in his time at Anfield.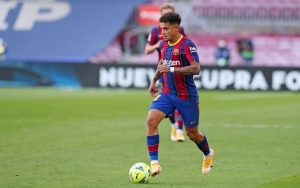 Whether the Red Devils and interim boss Ole Gunnar Solskjaer actually require his service is another issue entirely. The South American midfielder can operate as an attacking midfielder and a wide man, which is his favoured position.
Manchester united are covered in that zone with France international creative midfielder Paul Pogba, whose improved performances and commercial worth make it unlikely that he would be offloaded.
The Manchester United midfield maestro, too, has failed to spark when further back on the pitch under Portugal international tactician Jose Mourinho and there seems less or no reason to interfere with a player who can be a game-winner more constantly than the South American.
It would anger Manchester United supporters for him to join Premier League rivals considering the manner in which the Brazilian international left Merseyside club Liverpool, and as a result, it becomes impossible to tell if a transfer for the attacker would be good or bad investment.
It was also suggested that Premier League giants Chelsea are interested in signing the FC Barcelona flop but their transfer ban complicates the deal.